Here is a spec of current equipment that Chaos Illumination possess. Our focus is mainly on effects projectors, but we are rapidly gaining more conventional lighting gear such as spots and moving heads.
1 x Christie LX1500 15000 Lumen
2 x Sanyo PLC -XF30 5200 Lumen with various lenses
4 x Sanyo PLC9005 2200 Lumen
Philips LC4341 1100 Lumen
Various long/short throw lenses to fit the Sanyo/Christie range
Driven from a 64bit Dual Core Athlon 4.4GHz PC with twin SLI GeForce 7800 graphics card. 2Gb fast SDRAM
Effects Projectors
3 x Optikinetics K4 projectors.
1 x Optikinetics K2 projector.
5 x Optikinetics Solar 575 projectors
5 x Optikinetics Solar Systems
9 x Optikinetics Solar 250s projectors (2 original Hawkwind lightshow ones, thanks Dave!)
2 x Optikinetics Solar 100s projectors
1 x Rank Aldis Tutor 2
8 x Optikinetics Quasar Xe900
Effects - way too many to list but include panoramic rotators, flop prism rotator, prism effects, crystal pulse unit, cassette autochangers, kaleidoscope lens and numerous 3" cassette and 6" wheel effects including some rare early 70s Pluto and some custom 6" wheel effects.
1.5W DPSS Green
3.5W Coherent Purelight Star white light lasers, with EyeMagic EMS4000 scanners, an 8 channel PCAOM colour blanker, and a Pangolin LD2000 projection system.
150mW DPSS Green Laser with Medialas DMX controller.
Strobe Lights
4 x Hungaroflash Quasar Strobes
6 x AF1000 Data flash strobes
3 x 1500W SGM Flasher 1.5 strobes
10 x Optikinetics Club Strobeflowers
5 x Optikinetics Pro Strobeflowers
1 x Optikinetics Terrastrobe
2 x 750W strobes
1 x 1500W strobe
2 x Anytronics Megastar DMX strobe
UV
1 x 400W U.V. Cannon
2 x 40W U.V. Fluorescent Strips
Misc
An Optikinetics Bubble Machine
2 x JEM ZR22 DMX smoke machine
Small smoke machine
Spots and Moving Heads
12x SGM Giotto Spot 400
6x SGM Giotto Wash 400
4 x High End Cyberlights
2 x Silverstar Y2101 1200W heads
2 x High End Studio Color 575s
2 x MAD ITM250R scans
2 x Futurelight EYE36 36W LED Moving Heads
8 x PAR 64 LED Parcans
8 x Par 56 cans / 4 ch dimmerpack
24 x Par 64 cans. / 12 ch dimmerpack with 20m / 30m Socapex
Controllers
Chamsys MagicQ PC desk
Avolites Pearl 2000 desk with 2004 software. Full touring package.
Pulsar Masterpiece 108 Lighting Desk
Pulsar DMX to Analogue Interface 36 channels
2 x Artnet Ethernet <->DMX Hub converters with WiFi radio link (I hate running DMX cables from FOH to stage...)
Custom made DMX to Strobeflower convertor.
63/125A 3ph distro
32A 3ph distro
A lot of 13A/16A/32A cabling to suit
2X 4M Winch stands 100KG
4X 3.3M Powerdrive 330 Winch stands 60KG
Approx 16m of ladder truss
12m x 6m white sharkstooth gauze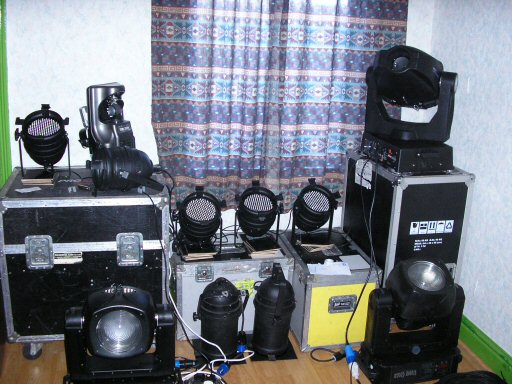 Johns spare room.

Who Are We / Technical Specs / Gigs / Effects / Laser